El Dorado ar for the Holidays
Downtown Holiday Lighting November 21st
Meet us in Downtown El Dorado on November 21st for the annual lighting of the Union County Courthouse! Special Guest Senator Mathew Shepherd, Arkansas Speaker of the House.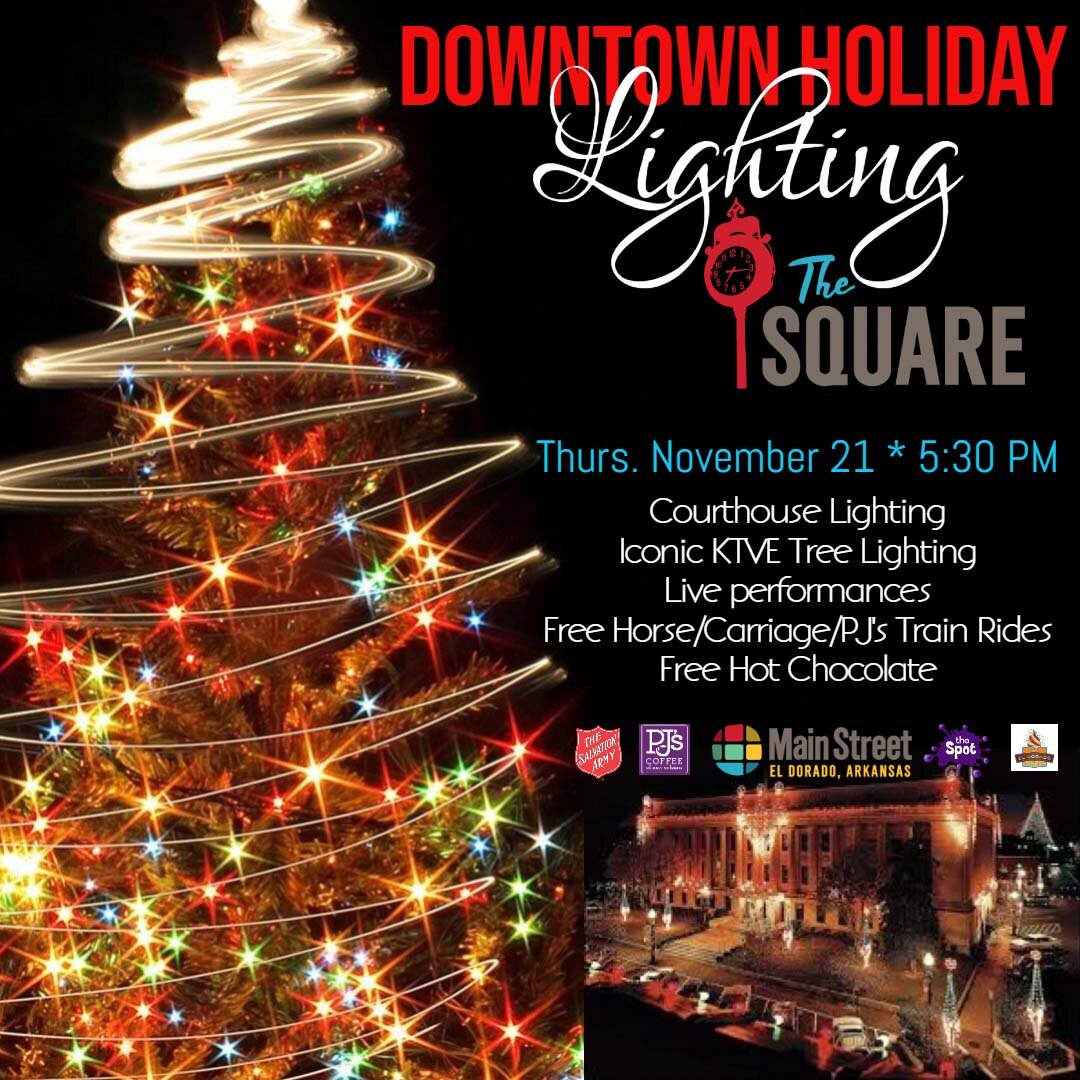 Horse and Carriage and PJS Coffee Express Train Schedule (Weather Permitting) November 21-December 28th
Main Street El Dorado along with Sponsors PJS Coffee and the El Dorado Creamery make it possible for FREE PJS Coffee Express Train and Horse and Carriage rides Nov. 21, 22, 23 & 24! Other dates available listed below.
MAD on Ice Skating Rink November 23-January 5th
The skating rink will open on Saturday, November 23rd and will be open through January 5th, 2020. Operating hours will be 4:00 PM – 7:30 PM, Tuesday through Friday, 10:00 AM – 9:30 PM on Saturday, and Noon – 5:30 PM on Sunday. There will also be special Holiday hours to address school vacations. A full calendar of days and times is available on www.eldomad.com.
Tickets cost $12 per person for unlimited skating (one uninterrupted session). Skate rentals cost $3 per person and are available in both adult and kids sizes. MAD members enjoy free skates on Tuesdays, Wednesdays and Thursdays.
"We are really excited about this," said Bob Tarren, MAD's Chief Marketing Officer. "We've been hearing from people in Little Rock, Shreveport, and Monroe who are looking forward to bringing their families. With the MAD Amphitheater's music and lights, it should be a lot of fun."
There are two types of skating aids or 'helpers' - Bobby the Seal and Tommy the Reindeer, which will help both adults and children enjoy the ice. Each are available for rental at $15 for a 90 minutes cycle (as defined by the period in between ice cleaning with the Zamboni). Helmets will be available for free on a first come/first served basis. Children 12 and under must be accompanied by a parent (they do not need to be on the ice). A skating waiver form must be filled out for each person skating. This form will be available on-site as well as on the MAD website prior to opening on November 23rd.
A limited quantity of Season Passes will be available providing unlimited skating time plus skate rentals for a cost of $199 plus tax. There will also be a pay-as-you-go skating punch card, offering "skate nine times and the tenth is free."
The skating rink will be available for a limited amount of hosted special events or rental buyouts. Please contact MAD's special events team at hostedeventsstaff@eldofest.com.
Downtown Open House Sunday November 24th 1:00 pm - 4:00 Pm
Get a sneak peak at all the Downtown shops have to offer for Holidays! Refreshments, specials and sales from 1:00 PM to 4:00 PM on Sunday November 24th. This is a Holiday tradition you don't want to miss! Main Street El Dorado will be downtown for a sELFIE station, so stop by and get a free picture to remember your day! This is the last day of the Free PJS Coffee Express Train and the Horse and Carriage rides sponsored by PJS Coffee, Main Street El Dorado and the El Dorado Creamery!
First Thursday Downtown El Dorado December 5th 3:00 PM- 7:00 PM
Santa is making a special appearance for First Thursday in Downtown El Dorado. Of course he knows the stores are open until 7:00 PM for your shopping convenience.
Santa will be available in Downtown El Dorado Dec. 5th 3:00 PM-7:00 PM, so bring the kids by for a visit and don't forget your camera so you can take a quick picture!
El Dorado Chamber of Commerce Christmas Parade December 12th 7:30 PM
Make plans to attend the largest Christmas Parade in South Arkansas! Bands, Floats, Walking Groups will line the streets! Back this year are the Budweiser Clydesdales and of course Santa will be here too!
The deadline to enter the parade is December 4th by going to goeldorado.com or call the El Dorado -Union County Chamber of commerce at 870-863-6113.
Insider Guide-Your guide to the Holidays in El Dorado! Look for the Downtown Business Associations insert for a sneak peak!
Being home for the holidays means stories told over home cooked meals, catching up over a cup of hot cocoa and a chance to introduce little ones to the much-loved traditions of El Dorado's past. Beginning with the deliciously tempting cookies on our cover, the feeling of comfort and home reverberates throughout this issue. The festivities during this time of year are numerous, so be sure to check out our calendar of events listing because you don't miss out on any of the holiday fun. Along with downtown events, there is also an abundance of shopping and dining opportunities to be had during the holiday celebrations.