2019 SHIRT DESIGN
$20 EACH
SIZES YOUTH-ADULT 5X AVAILABLE
MUST PRE-ORDER

order deadline, aug 23
Airstreams on the Square
september 5-8, 2019
2018 Best New Event award winner
EVENT SCHEDULE
THURSDAY, SEPTEMBER 5
DINNER to benefit local Veterans.

Meal includes: Chicken Spaghetti, Green Beans, Roll, Dessert and a Drink.
Pick up or DINE and visit in front of Merle Norman on Washington Street 5-7pm.
Pre-Orders ONLY
Cost is $10.00 per plate.

Contact Main Street El Dorado at
870-862-4747 to reserve yours today!
LIVE MUSIC AT THE GRIFFIN RESTAURANT
FEATURING SEAN MICHAEL

8PM
Get TWISTED-Painting with a twist 10AM OR 1PM
Each participant will get to paint their own apron while enjoying their favorite adult beverage.

2 different classes are offered, one at 10am and one at 1pm.

each class has limited availability.
Please call 862-4747 to reserve your spot. Cost $35.00 per person and includes all painting supplies.

Location: Backwoods Art & Frame; 111 N Jefferson Ave, Downtown, El Dorado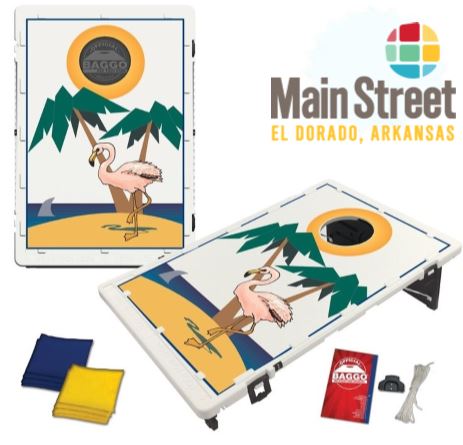 BAGGO (cornhole) Tournament Location TBA
$20 per team or $10 per person
Prizes TBA
2:30pm- Single Elimination
Beer, wine and other concessions available for purchase.
No outside food or drinks allowed in the playing area.
Join the Downtown Pub Crawl! We will meet at the parking lot next to Merle Norman and begin our Pub Crawl adventure. We will stay about 30 minutes to an hour in each bar and then "crawl" on to the next pub...follow the LIVE music and the crawl. Cost $20 and includes 3 drinks and a commemorative cup!

airstream Open House- free to the public!!
Tour the Airstreams and pick your favorite! The public is invited downtown to tour the inside of the camping Airstreams. Each Airstream will decorate in their best luau style and invite you in! When you find your favorite camp, place a canned good in their collection box, at their camper. The Airstream with the most canned goods, wins people choice! All canned goods will be donated to the local Salvation Army.
camper potluck
Make and Bring your favorite dish to share with other campers! Meet on Washington St at "Home Base" 5:30 pm
showdown at sunset- free to the public!
A Historic re-enactment including a spectacular gun fight on the Courthouse steps that you will not soon forget! 6:15pm
This award-winning event was named one of the Top-100 Events in North America by the American Bus Association and received the Community Trademark Award by the Arkansas Festival & Event Association.
In 1902 in broad daylight on the courthouse square, city Marshal Guy Tucker confronted his bitter rivals, the Parnell Brothers. In one swift moment, a flurry of gunfire left three men dead and several others wounded. Witness the historic re-enactment of the infamous Parnell-Tucker gunfight three Saturdays in downtown El Dorado. The re-enactment supports a cast of area actors and chronicles the events that led up to this historic event.
Characters include: City Marshal Guy Tucker, grandfather to former Arkansas Governor Jim Guy Tucker; store owner Tom Parnell; brother Matt Parnell; photographer Bob Mullens; Sheriff Norris and others.This historic portrayal of life in El Dorado in the early 1900s.
boot - scootin' block party- free to the public!!!
Come shake ya tail feathers with us! Adult beverages and other concessions will be available. Wear your dancing shoes or boots and lets have a flockin' good time!
7pm-until!
CONTACT
Beth Brumley with Main Street El Dorado
870-862-4747 • director@mainstreeteldorado.org
Event Location:
Downtown El Dorado events held on the Union County Courthouse lawn:
101 N. Washington Ave., El Dorado AR. 71730